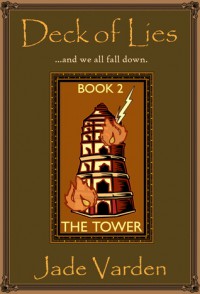 The Tower is a very good continuation of the Deck of Lies series. I finished this book the day I started reading it.
*Spoilers ahead for those who haven't read the first book*
The Tower starts is mostly about Rain trying to figure out who is Laurel's killer, along with the added family and friend drama.
It seems like each character has some secret or mystery to go with them. Sawyer is acting strange, we learn Laurel was obsessed with Sawyers crazy aunt, Owen is not acting mournful about Laurels death, River is locked up, and the police are becoming interested in Rain. There is never a dull moment, to say the least. Plus, we learn more about Rain's parentage.
The mystery of Laurel's killer is well put together. It is complex and frustrating. Every time a new clue or lead would show up I would think I knew who did it, only to be utterly frustrated and clueless the next moment.
Rain is a very good main character. Her voice feels genuine and I think she mostly makes smart decisions. Although there were some times I wanted to yell at her when she was flippant with the police. Not a smart move Rain.
In this book we see a lot more of Sawyer. I am completely thrown off by him. One minute he is acting strange, and the next he is very sweet. I wonder if he has a secret too or something. I am not sure if he had anything to do with Laurels murder.
There is a sort of air to the story I found cool. Rain tells the story with a feeling of normalness, she still goes to school and has breakfast, lunch, and dinner. She isn't solely obsessed on anything. Yet you can sense some things and people have changed. Other people haven't. It feels realistic.
Overall, this book was a nice, thrilling sequel. I can't wait to read the next book! I might buy a copy of the series in paperback, so far it definitely deserves to be on my shelves.
4/5 bookcases